Sakshi Nalgonda Advertisement Booking Online at Lowest Rates:
Select Your Ad Format :
Economical, Simple Text. Charges per line/ word. Can be enhanced with Tick, Border & Bold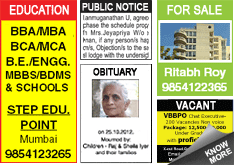 More Visible & Expensive. Include image, colour,font variations. Rate is charged on per sq.cm basis.
Thanks for writing us. You can book sakshi paper advertisement through our ad booking portal. We are the leading advertising agency in India that helps advertisers to book ads on any media platform. For booking ads in sakshi paper , follow the steps given below- • S...
Related to:
Sakshi
Post date:
20/04/2018 - 01:08PM
Thanks for the query. You can book ads in sakshi news paper through our ad booking site. We allow advertisers to book ads in three different formats which include classified text, classified display and displays. Classified texts are simple running text ads charged on the basis of per words, line...
Related to:
Sakshi
Post date:
20/04/2018 - 12:44PM
In sakshi newspaper one can book ads at much lowest rates. We offer different discount packages for our clients to advertise in multiple locations. You can view all these separate discount packages in our portal while booking the ad in Sakshi newspaper. The ad rates in Sakshi starts from rs 100 o...
Related to:
Sakshi
Post date:
10/06/2017 - 05:41AM
Sakshi Nalgonda Classified booking Center
ReleaseMyAd Media Pvt.Ltd.
6-7-404/A, Shivajinagar,, Nalgonda, Andhra Pradesh ,508001
Book an Ad
Additional Information
About releaseMyAd
Book an Ad
Nalgonda is the cement capital of Telangana with a thriving economy. With several associated industries coming up in the region to support the cement factories of Nalgonda, there is a healthy competition in the region. To win this rat race and stand out from among your competitors, advertising is the key. Classified ads in top newspapers of Nalgonda are an economical approach towards flaunting your brands.
releaseMyAd is the best ad agency in Nalgonda which helps advertisers to book Sakshi classified ads online in 3 steps only:
1. Select Ad Type and Ad Category: Selecting your ad type (text/display classifieds) and ad category (property, matrimonial, recruitment, obituary, etc.) will begin your ad booking procedure.
2. Compose Ad: You need to compose your ads, then. In case of display classifieds, you will either edit an existing layout or upload your own ad. We have lots of ad samples to help you while composing the ads.
3. Select Dates & Make Payments: At the last stage of ad booking you have to decide the dates for ad release and make payments.
Additional Information
Why choose releaseMyAd for booking Sakshi Newspaper classifieds in Nalgonda?
Nalgonda or Nilgiri is a part of modern Telangana famous for its tourist spots like the Nagarjunsagar Dam. Nalgonda has a booming economy thanks to the cement plants in the district. Advertisers use classified ads in top newspapers of Nalgonda to advertise their wares. It is the easiest way to endorse your brands at lowest rates. releaseMyAd is one of the best ad agencies of Nalgonda. It assists Nalgonda advertisers to book classified ads in top newspapers of Nalgonda at most affordable rates. Ad booking with us serves several advantages:
• Book ads 24*7 from your home/office with our easy 3 step ad booking process.
• Get discounts, special offers and exclusive ad rates for Nalgonda.
• Avoid paying middlemen for ad booking in top newspapers of Nalgonda.
Instant Advertise in Sakshi Newspaper in Nalgonda !
About releaseMyAd
releaseMyAd is India's simplest classified booking service! Through our service you can book classified Ads for all leading Indian Newspapers – at no extra charges!
We are fully accredited by the Indian Newspaper Society (I.N.S.) - the primary governing body for all media publications. Furthermore, we have exclusive tie-ups with newspapers that enable you to release ads at the same cost as the newspaper in addition to enjoying special discounts!
You can book your Newspaper Ad instantly for any category such as Matrimonial, Property, Recruitment, Automobile, Travel etc. We accept both online and offline payments for advertisement bookings. Online payment options include Credit/Debit Cards & Net Banking (All Indian Banks), and offline options include Demand Drafts, Cheques and cash payments.
Contact us at:
questions@releasemyad.com
+91 33 4031 1111 (24 hours, Monday-Sunday, Standard STD/Local charges apply)