Sakshi Warangal Newspaper Advertisement Online Booking
Sakshi Warangal Newspaper Advertisement Online Booking
---
Warangal

AD BOOKING
---
No. 2 Telugu Newspaper

Circulates more than 1.5m copies
23 Editions
Lucrative ad rates
Select Your Ad Format :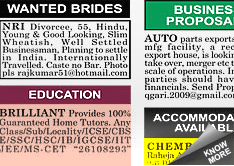 Simple text format of advertisements charged on the basis of the number of words, lines or characters used in the ad matter. Enhancements like a tick, border, color, and bold fonts can be used in this pocket-friendly and economical form of advertisement.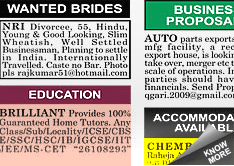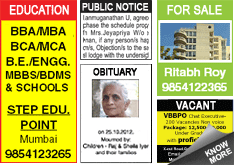 A better way to exhibit advertisements in newspapers which include catchy graphics, image, logo, colour, fancy font making ads more visible to the readers. This great way of advertisement that helps the advertisers to grab the attention of the target audiences is changed on the basis of per sq.cm unit.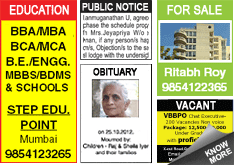 ---
Select Your Category For Sakshi Classifieds below :
SELECT AD CATEGORY
---
Want to advertise in specific Sakshi Warangal Supplements ?
SELECT A NEWSPAPER SECTION TO ADVERTISE IN
---
---
Warangal Edition covers the following areas:
EDITION COVERAGE
---
Jayashankar
Warangal
Jangaon
Mahabubabad
Advertisement Section
Publishing Days
Booking Deadline
Sakshi Warangal
All Days
2 day(s) Prior
Ad Categories: Matrimonial, Property, Recruitment, Public Notice, Obituary, Education etc.
Customer Reviews
ADVERTISERS REVIEWS
---
Frequently Asked Questions
FAQ
---
Why advertise in Sakshi Warangal
WHY ADVERTISE AD IN
Sakshi Warangal

?
---
Why choose releaseMyAd for booking classifieda ads in Warangal?
Warangal is the second largest Warangal in Telangana. Soon to be categorized as a Smart Warangal, Warangal has been growing at a rapid pace. Competition is rampant amongst businesses within industrial sectors. Business owners are trying to carve a niche for their brands in this growing Warangal.
Warangal demands effective yet pocket-friendly ads for promotions. releaseMyAd is a client-friendly ad agency in Warangal that advocates using classifieds in newspapers for low-budget advertisers. Booking ads with us will serve the following advantages:
Book classified ads in leading Warangal newspapers instantly.
Get expert assistance in ad booking from an INS certified ad agency in Warangal.
Pay us using various online and offline payment options. All our online payment gateways are secured by SSL encryption.
Book your Sakshi Ads in Warangal Now!
View Sakshi Ad Rates for Warangal:
ADVERTISEMENT RATE
---
| S. No | Ad Section | Publishing Days | Ad Rate Starting From | |
| --- | --- | --- | --- | --- |