Welcome to Sakshi Newspaper Ad Booking Portal. Use this portal to book any Newspaper Ad instantly online for Matrimonial, Property, Recruitment, Public Notice at the lowest rates. Pay via Credit Cards, Debit Cards, UPI, Net Banking or Cheque.
Worried about getting contacts, rates, deadlines and manual booking procedures for your Sakshi classified ads? Your search ends here- Now you can book newspaper classified text and display ads via releaseMyAd - India's largest newspaper ad booking portal. Just 3 simple steps and your ad is booked for the scheduled date.You can avail the best rates and discount packages for your Sakshi classified ads only at releaseMyAd. Get started !
Ad Type
---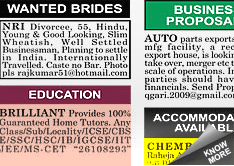 There are two types of classified ad such as Classified Text Ad and Classified Display Ad. Classified Text Ad is the most cost-effective forms of advertising in any Newspaper. The Ads appear in the classified section in the standard running text format. Rate is charged per Line/Word/Character basis. Enhancements like tick mark, colour, bold font, border lead to extra charges. Classified Display Ad is more visually appealing than classified text ads. Here one can add customized font, colour, logo or image to make the ad visually more effective for the target readers. These ads are charged on the basis of per sq.
Display advertisements are the most extravagant form of newspaper advertising. They can be published on any page and can occupy any amount of space in a specific newspaper page.
---
Select The Sakshi Supplement To Advertise Under:
AD SECTIONS
---
---
Sakshi Ad Booking Centers :
LOCATIONS
---
Why advertise in Sakshi Newspaper ?
---
WHY ADVERTISE IN
Sakshi

NEWSPAPER?
---
Sakshi is one of the leading Telegu language newspapers in India. It was founded by Y.S. Bharathi in March 2008. Since then it has only risen the ladder of audience reliability and preference. Sakshi is one of the top priorities of the advertisers because :
Due to it's quality content, it's circulation increased and today it is the second-largest Telegu language newspaper with an overall circulation of more than 1.09 million.
With the increasing demand, the Sakshi Newspaper ads became the most effective for the advertisers, as Sakshi advertisements reached a huge number of audiences.
Sakshi's circulation and readership have always made the advertisers choose Sakshi for putting up their advertisements.
Sakshi is a cost-effective solution. The advertising rates of Sakshi are cheaper as compared to other similar newspapers.
The exclusive packages for booking Sakshi Advertisements that cover different locations help the advertisers to reach out to the maximum people possible in the cost-effective rates.
If ad booked through releaseMyAd, the advertisers get the facility of booking the ad in the shortest period and the facility of instant ad booking.
Location covered by Sakshi Newspaper :
Sakshi is a leading regional language newspaper of Telegu states of Telangana and Andhra Pradesh.
Sakshi Newspaper has started with 23 editions which were published from 19 different cities simultaneously, back in 2008.
But now Sakshi has around 30 editions including the metropolitan cities of
Mumbai
Delhi
Chennai
Bangalore
It covers other locations such as Hyderabad city, Chittoor district, Vijayawada, Tirupati, to name a few.
View Sakshi Ad Rates for :
ADVERTISEMENT RATE
---
---
How To Book An Ad Sakshi Newspaper?
---
HOW TO BOOK AD IN
Sakshi

NEWSPAPER?
---
Booking an ad in Sakshi Newspaper has become easier with the existence of releaseMyAd.
releaseMyAd is an INS accredited advertisement space booking online portal that helps you to book an ad for almost all the locations in India. releaseMyAd gives you the privilege to enjoy booking the ad online, from the comfort of your home. releaseMyAd also provides you with the most cost-effective packages to book advertisement for your requirements.
By visiting releaseMyAd's website you can book the ad in just 3-steps :
Choose the type of advertisement of your preference.
Choose the advertisement category and reach step 1.
Step 1 : Selecting Newspaper And edition
In this step you need to select a newspaper of your choice and a preferred edition for publishing the ad.
Step 2 : Selecting sub-category and composing ad matter / Uploading design
In this step you need to compose a text ad in case of classified text or upload the designed creative in case of classified display or display ads. Proper sub-category must be selected in case of classified text ad as it will determine the location of the ad.
Step 3 : Selecting dates and making Payments
In this step you need to select the dates according to your preference. Selecting more than one date is allowed. After selecting the dates you need to put you details to create an account or you can also log in if you already have an account with us. And then select the payment method, after checking the final price, and click on MAKE PAYMENTS.
If you are still having any questions, call releaseMyAd at 9830629298. Our highly experienced executives are there to help you. Or you can directly chat with us by clicking on:
releaseMyAd is always there to help you book an ad for your requirement from your comfort zone. Thus we are there to provide you with complete guidance for booking any kind of advertisement in Sakshi. releaseMyAd with it's effective experience will always be there with you from the start to the end to make your ad campaign effective. So, go and plan your ad campaign for Sakshi newspaper and hold the hands of releaseMyAd by booking through us to make this journey more effective and easy.